We have already done most of the things on the list anyway
or most of the pictures listed below is how we see too.
T
his entire list is spot on! That laundry scene made me think about the time I fell into the pot sink in Lazy J when I reached in for my knife and had to tiptoe to reach the bottom then lost my balance. I was soaked.
1. Having to use countertops as counterbottoms.
2. People feeling compelled to point out the obvious.
if i had a dollar for every time someone called me short...
3. Explaining this to people.
Twitter: @Sam_Halliday
4. SWIMMING.
instagram.com
5. Sitting behind ANYONE.
instagram.com
6. Selfies don't always go the way you planned.
instagram.com
7. Mastering the grand art of cuffing.
Having to do this to every pair of jeans I have because if they fit my waist they're too long.
#shortgirlproblems
8. …or else this happens.
pastrytramp.tumblr.com
9. Always being the last to get anywhere.
s3.favim.com
10. Trying to get bartenders or customer service people to see you.
instagram.com
11. Stepstools. Stepstools EVERYWHERE.
instagram.com
12. Maxi skirts become maxi dresses.
endless—adoration.tumblr.com

13. …and every skirt becomes a maxi skirt.
thecurmuffin.tumblr.com
14. Adjusting your car seat after someone tall has driven it.
When I drive
#shortgirlproblems
15. Playing the fun game "Sweater or minidress?"
instagram.com
16. Grocery stores turn into ersatz rock-climbing walls.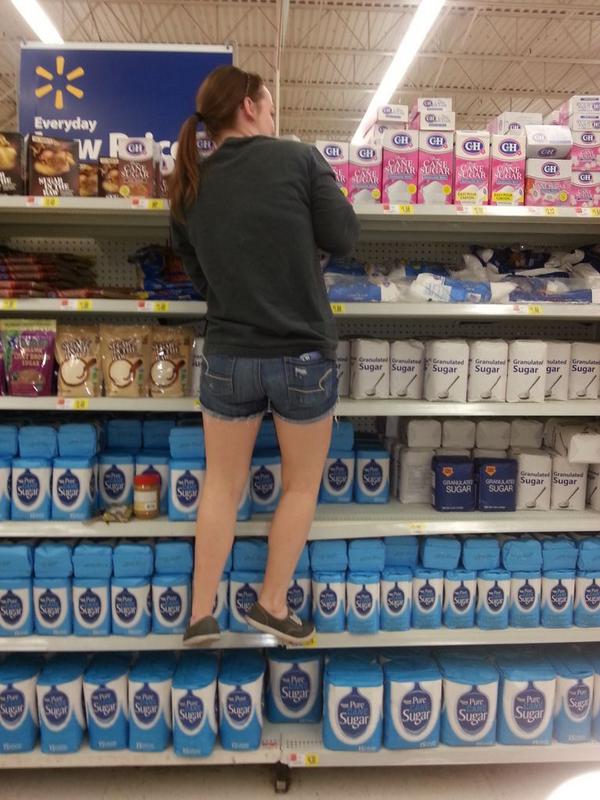 When you can't reach the powdered sugar on the top shelf...
17. And sometimes you just give in.
kassandraerica.tumblr.com
18. One word: laundry.
instagram.com

19. Getting made fun of at theme parks for only JUST meeting the height requirement.
instagram.com
20. Bathroom mirrors just don't seem to get it.
reddit.com
21. Feeling like you're always sitting in a high chair.
instagram.com
22. Being way too easy to spot in group pics.
instagram.com
23. Getting into really tall beds.
instagram.com
24. Snow. Any snow.
irishrebelhoran.tumblr.com
25. Kissing.
instagram.com
26. Having to get REALLY good at hemming.
instagram.com
27. Answering people's dumb questions.
instagram.com
28. Stores that don't have a petites section.
29. Road trips.
instagram.com
30. But just remember this motto!
instagram.com
Credits: Buzzfeed
Ah, the grocery store shelf ladder. We know each other so well...